I wrote this book during my recovery, after my horse, Talo, fell on me. I broke my ankle and my pelvis, and seriously strained my knee. Rehabilitation was a long, interesting journey, which helped me learn a lot about the human body and myself. As an equestrian, I had one goal in mind the whole time – to get back in the saddle. Here's the chapter that discusses that.
—
Mere days after my injury, while still in the hospital, I started Googling some very specific queries that most of you can't relate to. Equestrians, however, will understand me perfectly. I wasn't looking for time frames of being able to walk or drive. I wanted to read some first-hand, personal experiences of horse riders who had the same injuries as mine and went back to riding. I wanted to know how long it took, how did they do it, and how much pain and suffering they were willing to endure.
This was the most important thing for me – being able to ride again. I didn't care what it would entail, and I ignored what the doctors said about the subject. I knew I wasn't the only crazy horse girl who was injured, and sure enough, I found a plethora of riders' stories who injured their ankles, fractured their pelvis (though truth be told, I didn't find anyone who broke both, like had the misfortune to do) and went back in the saddle, hobbling and cursing and caring not for their health or the amount of pain they felt. Some of them waited a few months, some of them insisted on riding again after just a few weeks. All of them had to deal with the limitations of a healing injury (and the people around them, who treated them like they were insane), and they all found their way – from lengthening the stirrups to slithering down after a ride instead of hopping off the horse. Pain? Yo, whatever. I am riding. I don't care.
I even stumbled upon one wonderfully crazy young lady on Instagram, who tore all of her ankle ligaments, and one week after the injury, air-cast boot on and hopping on crutches, she lumbered onto a mounting block and sat on her horse's back, without a saddle of course. It made me laugh. I wouldn't have done that, but I understood her perfectly. We are equestrians, and we are insane. We will do whatever it takes to ride again, and nothing can separate us from our horses.
It took me almost three months to get back on my horse's back. As per my physiotherapist, I could have done it sooner. I did take my time. It wasn't so much about the stiffness or the dwindled butt muscles, but about my confidence. I knew there's more to riding than just sitting there. I need to safely groom my horse, lead him from one point to another, and then climb his back and sit on a bareback pad, which gives no real support. I will need to rely on my (weakened) core muscles. He might spook. Horses are unpredictable, and riding is dangerous on any given day, all the more so when your body is out of whack.
So, I forced myself to be patient and waited for the right moment. I was used to being with my horse every day, and I usually rode six days a week. All of a sudden, I had to deal with not seeing him at all for a month and a half. Then, it was short visits, once a week, courtesy of my dad, who drove me there. After a while, I could hop around with crutches and groom him. Those little steps made me feel a lot better, but I was still antsy. I needed to rely on other people to care for my horse most of the time, and I didn't like that at all, even though they're good horsemen.
A big step forward was when I started bearing weight and could (fucking finally) drive. At that point, I could go to the stables every day and be with my horse. Some weeks have passed, and I knew it was time for me to get back on. One day, after some encouragement from my physiotherapist, I decided to give it a go. I'll sit five minutes on my horse's back, that's all. No commitments, no pressure. If all goes well – great. If not, I can wait a while longer.
And I went ahead and did it. Got some help figuring out how to mount and dismount and rode my beautiful, silly horse for five whole minutes. I was careful and slow, but I rode. And it was great. On the next day, I rode for fifteen minutes. Just a nice, easy walk. Nothing to it. And there it was. I was back in the saddle. Sure, it hardly even qualified as riding, but it was a great start.
Things moved on pretty quickly after the first 2-3 rides. Because let me tell you what every rider knows – all horseback riding is essentially therapeutic. My rides became 20 and then 30-minutes long. I tried some trot, and it was fine for short amounts of time. And then, one afternoon, I summoned up the courage and sent my horse into a canter. And that was it. We were back. I was really riding again.
I mean, sure, physiotherapy was what got me going and put me back on my feet. But nothing fixed me up like riding again – physically and mentally. The movement of a horse is a magically healing thing. Just sitting there, letting the horse walk and move around, made me feel a thousand times better. There are muscles that only really flex when you ride a horse. There are joints that really only open and move well when you ride a horse. And there's this feeling of being back where you belong, after a long period of time in which you weren't sure of anything.
Of course, it wasn't perfect. When my rides started getting longer and more intense, I started getting achy here and there. Those were just the muscles, really working again, but they still hurt. I needed to rest a bit more, try a few days of shorter rides and stretch a lot more than I was used to. Still, the progress was amazing. All in all, it didn't take me very long to get back to a full riding schedule.
The orthopedic doctor that was responsible for my follow-ups wasn't too keen about the whole riding thing at first. But let me tell you, at my last two check-ups I made a convert out of him. He recognized the fact that riding helped me heal.
Equestrians feel better just by being around horses, and there's no need for special techniques or equipment. Horses heal you, physically and mentally. I've known this to be true before my injury, but understood it even more so while I was healing. My horse may have inadvertently caused my injury, but he was also largely responsible for the fact that I quickly got back on track.
—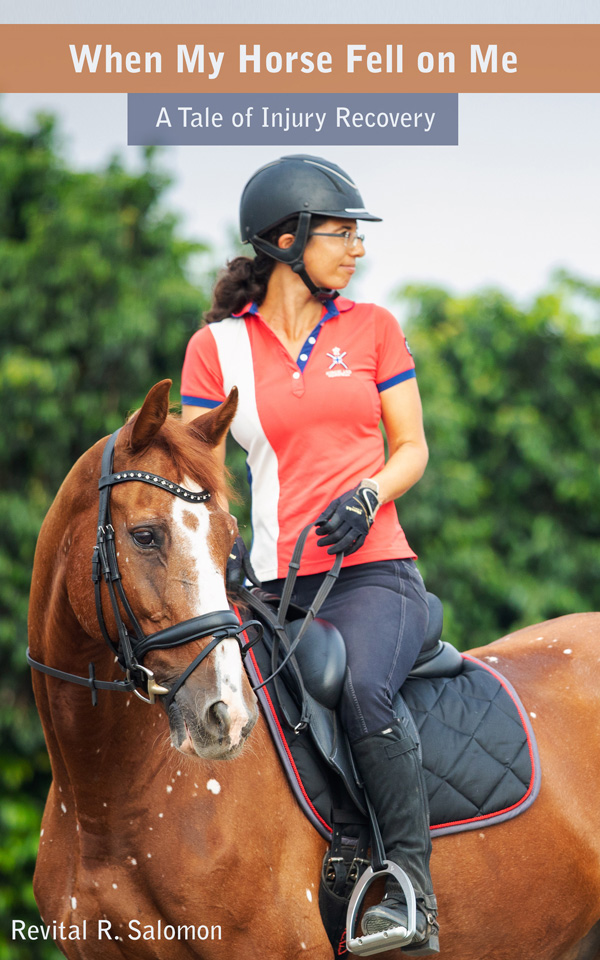 Interested in reading more about recovering from an injury? Buy the book on Amazon!